You deserve to thrive in your dream home.
With our interior design services in Toronto & the GTA, we'll turn it into your day-to-day reality
Our Most Popular Interior Design Services In Toronto
Interior design consultation (as a standalone service or to plan the scope of a larger project)
Full-service interior design
Kitchen, bathroom & millwork design and installation
Cosmetic renovations from start to finish
Lets make a house a home
Why live in a house that looks like someone else's home?
So, you've moved into a new house to elevate your lifestyle, itching to redecorate it and excited to make it your own. After the initial excitement wore off, though, you probably sunk back into your busy day-to-day… and a few months have passed.
Now, when you look around, you realize the walls are still builder's white, or the rooms feel like the previous owners' house. Or perhaps, because your children have grown and moved out, you can see you've neglected your decor throughout the past decades. 
Either way: currently, your home doesn't make you light up whenever you walk back in. It doesn't help you live in it to the fullest, whether that's by unwinding after a long day at work or being excited to invite your friends and family. Maybe you even find yourself justifying it with "we still need to work on that corner" whenever you have people over. 
All in all, your house just doesn't feel like your home, right now.
And, even though you keep saying you're going to do something about it, there's always a reason to postpone it, somehow.
Trust us: we understand. Trying to figure it all out on your own is hard and overwhelming! Finding time for it, getting clear on your budget, agreeing with your significant other on the actual style… Plus, how can you get started and find all those individual pieces when you haven't got a clear vision for your home?
This is simply because, when you're so used to seeing and living in it, it's hard to visualize beyond its current furniture, layout and colours.
Luckily, with our premium interior design services in Toronto, we can help you with any of those problems: that's exactly what we specialize in.
"My family is extremely picky when it comes to design, half the time we know exactly what we want and the other half we're lost and need a direction. Olga was one of the few designers who was actually able to meet us half way, provide us with different options of colors, explain her vision and guide us through the basics of how to create comfortable yet stylish home that we would love to come back to."

Marianna, Toronto
Turning houses into dream homes through our interior design services in Toronto & the GTA
At GTA Fine Interiors, we have the creativity, skills and experience needed to bring any house to life with impressive interiors, whether that's a mansion or a studio.
Olga works with colours, uses lighting and art to make your space airier or create the right ambiance, and knows exactly how to overcome your current design challenges to achieve your dream vision.
And that's what it will always be about: your vision, needs and preferences.
It doesn't matter how much we love certain design styles or colour combinations. If the current trends aren't your favorite, we won't push them just so we can gain a certain type of portfolio. And the goal behind our interior design services in Toronto isn't to create an impressive but impersonal showroom-like space.
Our aim is always to maximize functionality and aesthetic so that you will love your space, feel comfortable and thrive in it. 
From increased well-being to reduced anxiety, the right interior design is proven to affect your mood: let's make sure it does so for the better for you.
Thanks to our expertise, you'll obtain a home that represents your actual personality and makes you feel inspired whenever you enter it. The optimal balance between your kind of everyday luxury and comfort. 
Our award-winning interior design services in Toronto
We offer a varied range of interior design services in Toronto, East York, and the GTA.
While we can usually accommodate other types of requests too, the following are our most sought-after options

Interior design consultation
Receive expert guidance, and get unstuck! Our consultation can be a standalone service or the first step to kickstart a full interior design package.
Either way, Olga will run an in-depth assessment of your living space. Whether you need help with selecting colours, a specific room or a larger project, she'll create a bespoke step-by-step plan for you. You can then choose to:
Use that clear plan to

execute it on your own

—without all the current stress and overwhelm

Let us take care of everything by

booking our complete interior design services

in Toronto. In that case, we'll include a custom estimate.
Full-service interior design
With space planning at their core, our complete interior design services in Toronto will optimize the aesthetics and functionality of your entire house.
We'll start with an in-depth consultation to get clear on the scope of the project: Olga will help you bring your preferences and needs together and figure out exactly how to get there.
It doesn't matter if you live in a large but dated build or a condo that doesn't feel as spacious as you'd like:
we'll transform your home in a way that maximizes its potential and matches your vision—and take care of everything along the way.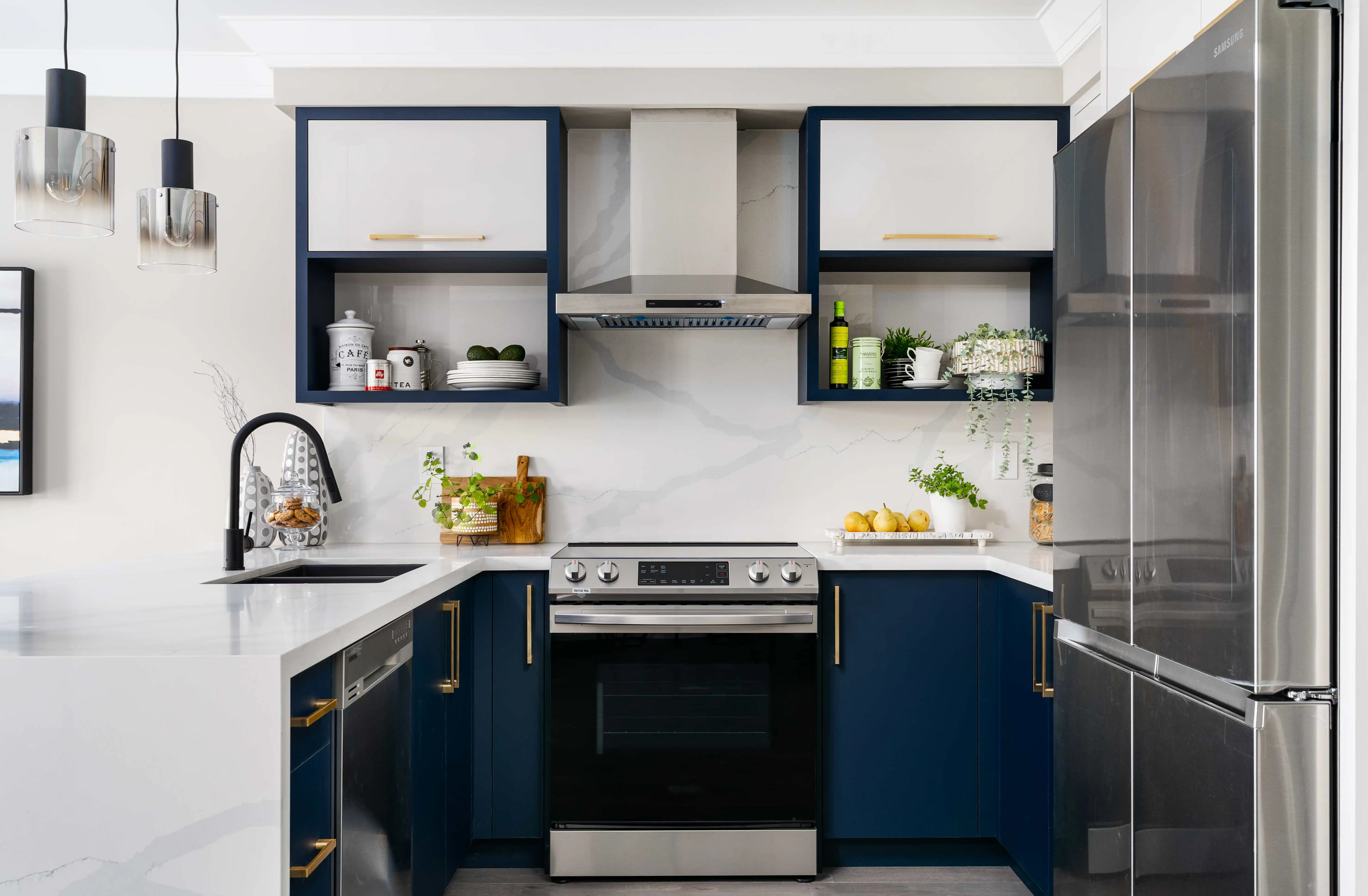 Kitchen, bathroom & millwork design and installation
Smaller projects can feel just as overwhelming if you don't know where to start!
Not only have we got the eye and expertise to identify the best possible solution in your specific case: 
we'll also save you time and headaches through our network of trusted trades.
Cosmetic renovations from start to finish
Hoping to elevate a room or your entire house visually but without investing in structural work? 
You'll be surprised by the difference these changes alone will make!
We'll help you plan and execute the right cosmetic renovations to turn your dream vision into a reality.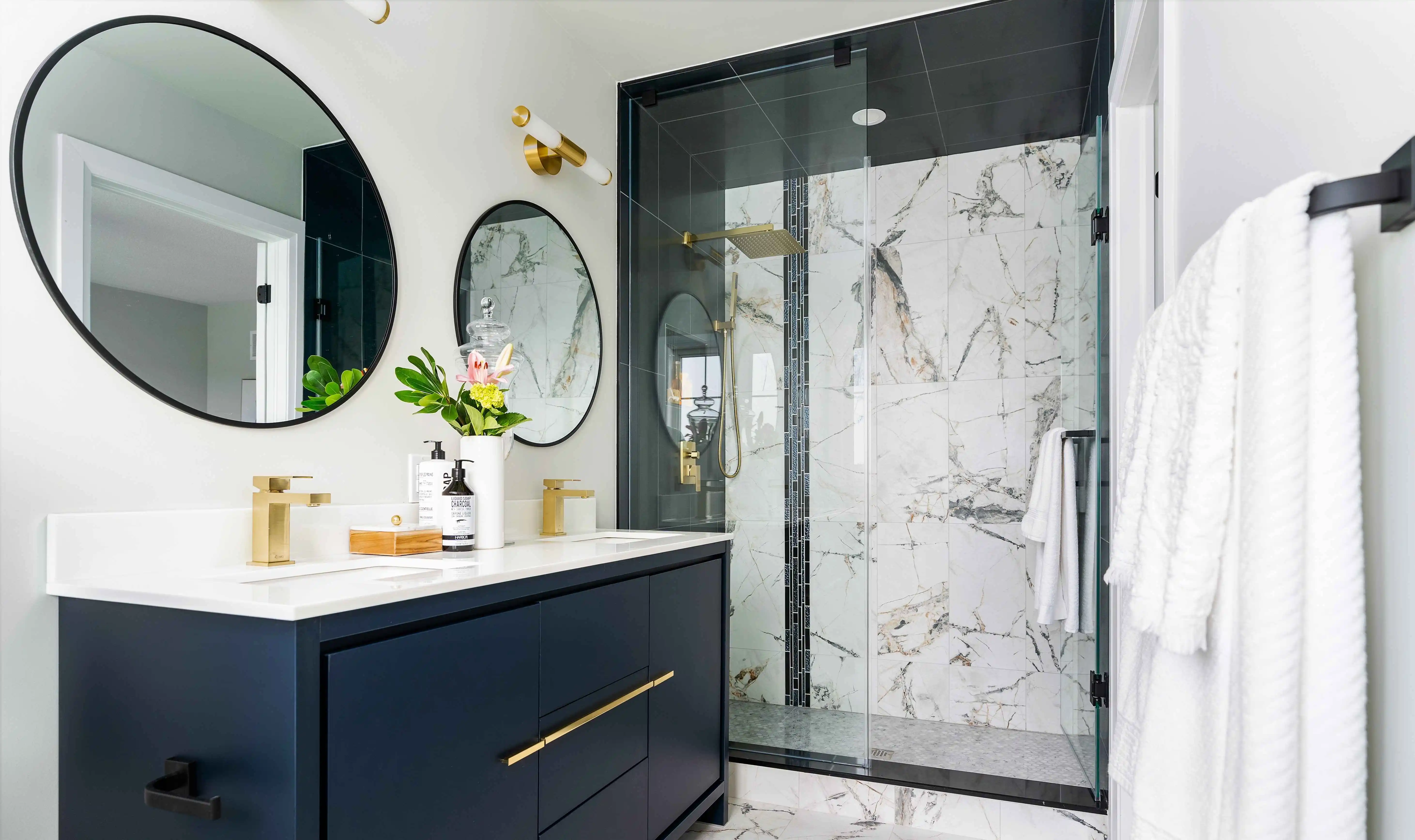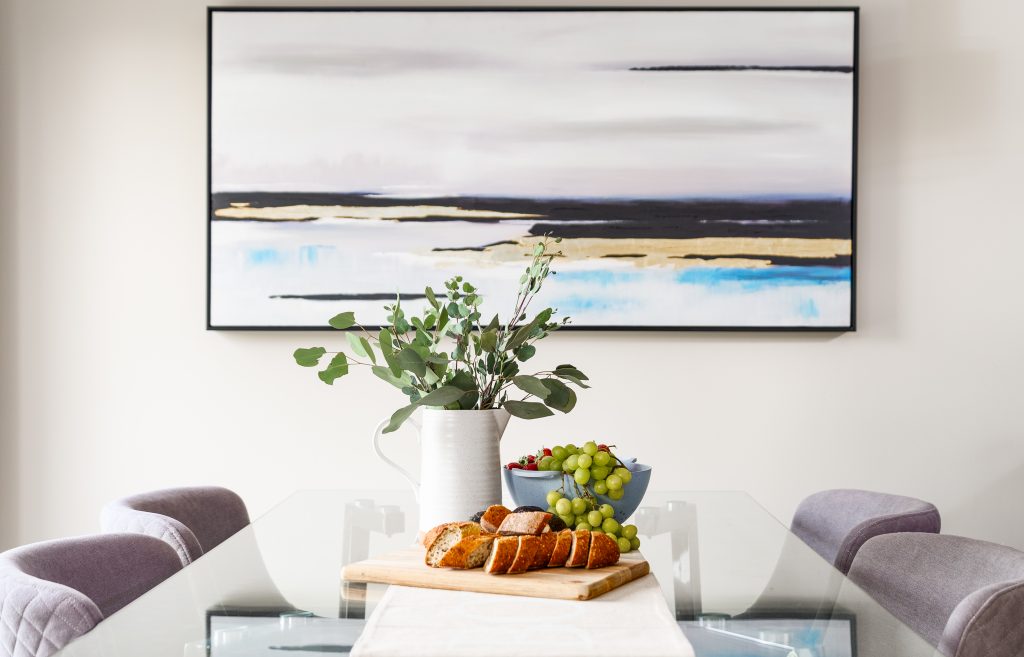 Airbnb interior design in Toronto and the GTA
Are your current listing photos helping you stand out against the other 10,500+ active Airbnbs in town?
With such fierce and growing competition, basic or random spaces are no longer enough.
Our interior design services in GTA will make travelers fall in love with your Airbnb right from the start.
Living and thriving in your dream home is priceless
Professional interior design is a one-off investment that'll keep on benefiting you for many years to come.

We'll help you stay within your budget

. When trying to do everything on your own, that's actually much harder, especially if you're not familiar with the cost of certain items and materials. Instead, we'll work with you on creating a priority list of 'must-haves', 'needed' and 'wanted', helping you allocate your budget strategically
You'll never have to worry about the overwhelming and time-consuming logistics.

After offering interior design in Toronto for years, we've built a reliable network of local trades—the kind of professionals we'd trust with our

own

house. So, you can

forget about having to scout for and vet a handful of strangers

. We also have access to the best showrooms to source the type of furniture and decor you're after
You can always count on our

expertise and professional advice to understand your vision

, identify the hidden potential of your living space and bring the two together 
You'll have an expert's support along every step of the way

: the journey will be just as exciting as the final result
Thanks to our house and condo interior design in Toronto,

you'll obtain a home that inspires you and fills you with warmth

every single day
"Olga is a proffessional interior designer with an amazing eye for detail! I love the way my house was designed, based on my family's needs and style. I appreciated the hard work she put into making our home feel like home."
A Javdan, Ontario
Booking our interior design services in Toronto and the GTA
Lets work together
The first step towards your dream home is always an in-depth interior design consultation with Olga ($450). This is available anywhere within the Greater Toronto Area and will run for up to three hours. 
You can choose to make the most of it as a standalone service or to request a complimentary estimate so that we can then execute all the work for you.
Take a moment to picture yourself walking through your front door in a few weeks: will it still look like the old owner's house, or will it finally feel like your dream home? 
If you're serious about turning the latter into your reality, our interior design services in Toronto will make it happen.
Book a consultation right now so that you can soon start living your home to the fullest—every single day.
"Olga's work is a real artistic piece that you will feel proud of. Anyone walking in the house will know it has been done by a real professional. Your house will have the wow factor and your guests will be in awe."
Nick Lu, Ontario
Tell us about your project
You're welcome to call us at (416) 992-1882, if you prefer.
Should we be with a client, we'll call you back as soon as possible.